At the end of last year, the Slovenian Infrastructure Agency concluded as an investor a contract for the construction of the Huda Luknja state cycling path, which is expected to be finalised by the end of 2023. The planned 9.4-kilometre path from Gornji Dolič to Selo near Velenje will run along the old, abandoned railway line, through four tunnels and over seven bridging structures. The route of the new cycling path will link up in Gornji Dolič with the existing Mislinja – Slovenj Gradec – Dravograd cycling path.
The project is co-financed by the EU from the European Regional Development Fund. The Municipality of Mislinja and the Urban Municipality of Velenje have allocated their quotas as part of the Regional Development Agreement mechanism.
The company RGP, d. o. o., which operates as part of the HSE Group, started the construction of the cycling path at the end of January this year as part of a consortium of partners. With its knowledge and references, it will renovate the Paka 1, Paka 2 and Huda Luknja tunnels and build a new tunnel, Legi Kamen.
| | | |
| --- | --- | --- |
| Tunnel properties | Tunnel length | Work to be performed |
| Paka 1 | 67.40 metres | Renovation of tunnel |
| Paka 2 | 74.78 metres | Renovation of tunnel and construction of the S portal |
| Huda Luknja | 421.00 metres | Renovation of tunnel |
| Legi Kamen | 118.60 metres | Construction of a new tunnel |
The Legi Kamen tunnel, which was broken through on 2 June, will be used for cycling traffic, and its profile will also enable the passage of small maintenance vehicles. The following work will be subsequently performed:
construction of drainage,
installation of waterproofing,
construction of the foundation and internal lining,
construction of portals on the southern and northern ends,
installation of the carriageway.
The Legi Kamen tunnel is planned to be completed by April 2023, and the renovation of the other tunnels by March 2023.
Some interesting facts about the Legi Kamen tunnel:
Quantity of material excavated to form the tunnel tube: 7,600 tonnes
Number of installed trusses: 37
Number of installed anchors: 393 (three metres in length)
Number of pipes in the pipe roof: 23
Number of niches in the tunnel: 4
Quantity of installed concrete: 520 cubic metres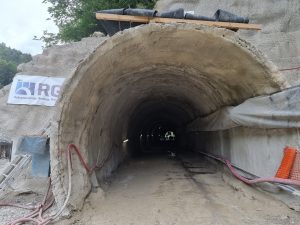 After 51 days of three-shift work, the Legi Kamen tunnel was broken through on 2 June 2022.