On 10 March 2021, Holding Slovenske elektrarne (HSE) and the Šoštanj Thermal Power Plant (TEŠ) signed with General Electric (GE) related to Alstom Power's involvement in the construction of TES Unit 6, an out-of-court settlement worth a total of EUR 261 million in favour of TEŠ. This means that the alleged damages claimed by the Slovenian companies in the arbitration related to the 2008 investment is withdrawn.
Holding Slovenske elektrarne and the Šoštanj Thermal Power Plant on 25 January 2017 submitted a request for arbitration before the International Chamber of Commerce, against GE related to Alstom Power's involvement in the investment in Unit 6 of TEŠ in 2008. GE acquired Alstom's power businesses in 2015. The purpose of the arbitration was to reclaim alleged damages resulting from the construction of Unit 6.
After more than three years of intensive work, the negotiators have reached a settlement agreement.
Its total estimated value is EUR 261 million, and is related to:
payment in the amount of EUR 138.7 million. The majority of this, EUR 131 million, has already been transferred to the account of TEŠ.
supply of services for the long-term maintenance and digitalisation of Unit 6 of TEŠ with an estimated value of effects of more than EUR 110 million. The objective is advanced maintenance of the key technical equipment of Unit 6 and the positive effects of the increase in availability and efficiency of Unit 6 of TEŠ.
around EUR 12 million in other savings and reimbursement of costs that HSE and/or TEŠ would otherwise incur for operation of Unit 6 of TEŠ or other related activities,
all this with the adequate discount rate, i.e. the time value of money having been taken into account.
As it is a settlement related to the commercial claim made by HSE and TEŠ in arbitration, both companies have withdrawn the statement of claim in return for the above-mentioned compensation in the arbitration procedure and renounced further damages claims in arbitration. The condition for the withdrawal of the arbitration and renouncement of the claim was fulfilled with the transfer of the first instalment of funds in the amount of EUR 131 million to the bank account of TEŠ on 10 March 2021.
Corporate Communications of HSE Group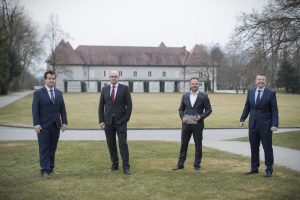 The settlement for the Slovenian side was signed by (from left): HSE chief operating officer Marko Štrigl, HSE chief operating officer Uroš Podobnik, who headed the negotiations with GE, TEŠ director Mitja Tašler and HSE and TEŠ chief executive officer Viktor Vračar.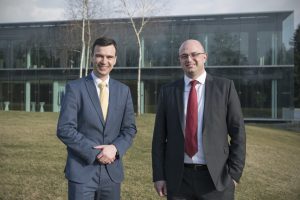 Matej Petrišič and Uroš Podobnik were the main Slovenian negotiators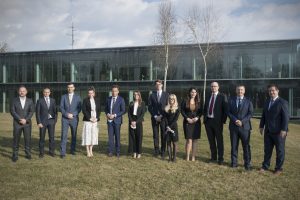 This success is the result of work by the entire team, which in addition to HSE employees also featured employees of the law firm Rojs, Prelesnik, Peljhan in partnerji.